!BASE HREF="http://www.thailink.com/">
The Royal Father of His Majesty the King
His Royal Highness Prince Mahidol of Songkla Thailand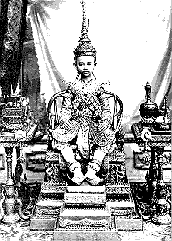 ---
THE 100th ANNIVERSARY OF THE BIRTH
OF
HIS ROYAL HIGHNESS PRINCE MAHIDOL OF SONGKLA
Published by the Royal Thai Embassy, Washington, D.C., and the Ministry of Foreign Affairs, Bangkok, Thailand for the Exhibition to Commemorate the 100th Anniversary of the Birth of His Royal Highness Prince Mahidol of Songkla, Thailand, in Boston, Massachusetts U.S.A. 1992
Presented on this page by Cholthanee Koerojna, one of the organizing committee members.
Joint preparations by public agencies and private organizations were under way in Thailand to commemorate in 1992 the centenary of the birth of His Royal Highness Prince Mahidol of Songkla, eminent educator, scientist, and humanist, the Royal Father of His Majesty King Bhumibol Adulyadej. Commemorative activities include the establishment of a fund for international annual awards to be presented to outstanding personalities who have contributed to the advancement of medicine and public health.
His Royal Highness Prince Mahidol of Songkla, born on the 1st of January 1892, to His Majesty King Chulalongkorn and Queen Savang Vadhana, was brought up in his formative years according to the Royal Thai tradition, and ordained as a Buddhist novice like his brothers, before receiving his education at Harrow, the renowned Public School in England. He then proceeded to Germany to continue his studies in accordance with the wishes of his Royal Father, who had close relations with Emperor Wiliiam II. The Prince first attended the Royal Prussian Military Preparatory College at Potsdam, which offered the same course of study in the humanities and sciences as civilian academic institutions, with the addition of training in military discipline. It was this liberal education background as well as self-study and his sedulous visits to museums during this time, together with his early childhood upbringing, that had helped to form the intellectual and philosophical basis of his outlook and personality. His Royal Highness furthered his education at the Imperial Military Academy at Gross Lichterfelde on the outskirts of Berlin for two more years, after which he followed the wishes of His Royal Brother King Rama VI, by entering at the Nurwik Imperial German Naval Academy at Flensbourg in 1912. In that year, Prince Mahidol was commissioned by His Majesty the King as Lieutenant in the Royal Thai Navy as was also by His Imperial Majesty the Kaiser as a Lieutenant of the Imperial German Navy. His Royal Highness completed his naval study but was prevented from undertaking his attachment to the Imperial German Navy, when, at the command of His Royal Brother King Rama VI on the outbreak of World War 1, he returned to Thailand, which at that stage declaring her neutrality.
After about a year's service in the Royal Thai Navy, there came Prince Mahidol's resignation, with His Majesty's permission, to pursue a civilian career. This was both the decisive turning point in his personal life and a momentous national event signaling his lasting contributions to the advancement of higher education, especially in the fields of basic sciences, public health, medicine, nursing, and medical research. Equally, if not more significant, was to be his striving to make explicit, uniquely through his exemplary conduct and teaching, the affirmation, later proclaimed in the UN Universal Declaration of Human Rights, of the dignity and worth of the human person.
Prince Mahidol had noted, while still serving in the Royal Thai Navy, the dire need for improvement in the standards of medical practitioners and public health. In undertaking his life's mission, Prince Mahidol of Songkla set in motion a whole range of activities to pursue his conviction of the critical importance of national development of human resources and his belief that improvement of public health constituted an essential factor in national development. A primary task was to lay a solid foundation for teaching basic sciences, which Prince Mahidol did by taking all necessary measures, not excluding provision of a considerable sum of his own money, in one instance, as scholarships for six talented students to study physics, chemistry and biology in England, who upon their return formed the core of well-qualified teaching staff in basic sciences which the country had hitherto lacked. With the teaching of basic sciences now wellgrounded, there followed the upgrading of not only medical education but also education in other fields of applied sciences. However, it was Prince Mahidol's special endeavour and thrust in furthering the advance of medical education, public health, nursing, and medical research that produced an impact so significant as to be symbolized by the distinctive title hotiouring His Royal Highness Prince Mahidol of Songkla as the "Father of Modern Medicine".
In undertaking the task of institutional development in these areas, it is highly significant that Prince Mahidol had planned for himself to study public health and medicine. Upon leaving the Royal Thai Navy, Prince Mahidol proceeded to the United States and enrolled at Harvard University in 1916. Alternating his residence at Harvard for study with his official duties and work in Thailand, Prince Mahidol pursued his study in spite of chronic ill-health, receiving the Certificate of Public Health in 1921 and the degree of Doctor of Medicine (cum laude) in 1928, as well as the honour of Alpha Omega Alpha membership. During the first period of his residence at Harvard, Prince Mahidol negotiated and concluded, on behalf of the Royal Thai Government, an agreement with the Rockefeller Foundation for assistance to medical and nursing education.
Upon his return to Thailand after receiving his C.P.H. in 1921, Prince Mahidol was appointed the Director-General of the University Department of the Ministry of Education. In this capacity, His Royal Highness pursued the implementation of the agreement with the Rockefeller Foundation, in addition to upgrading the teaching of biology, physics, chemistry, developing curricula, ensuring the acquisition of up-to-date equipment, and overseeing the construction of laboratory and classroom buildings. To meet these and many other expenses in expanding the medical school, Prince Mahidol generously supplemented government funding with his own personal funds, and helped raise donations from other members of the Royal Family. In implementing his institutional development plan to improve the teaching ot basic sciences and pre-medical education, the Prince mobilized all available resources, not even exempting himself from teaching vertebrate anatomy, and the result was very significant indeed. But it was in his capacity as Chairman of the Committee to establish the Siriraj School ot Medicine that one sees just how capable and farsighted as an educational planner, and how efficient as an institutional builder Prince Mahidol was.
After pursuing his official duties and work as an educator, Prince Mahidol went back to Harvard and returned home with his well-earned M.D. (cum laude) in 1928. Back again at Siriraj Medical School, for which he had toiled tirelessly and spared himself nothing, not even an enormous portion of his personal fortune, the Prince taught preventive and social medicine to final year medical students, but was not permitted to serve an internship because of his pre-eminent royal status as a Chakri Prince of First Rank. Never allowing his high royal status and privileged position to stand between himself and the sick and bereaved, Prince Mahidol decided to leave the establishment he loved and had toiled for, to work as a resident doctor at McCormick Hospital, an American missionary hospital in Chiangmai Province. Leaving his family in Bangkok, His Royal Highness stayed with Dr.E.C. Cord, Director of McCormick Hospital, during his residency and performed operations alongside Dr. Cord. As ever, the Prince did much more than was required in attending his patients, taking care of needy patients at all hours of the day and night, and, according to the records donating blood for them. Thus, finally, Prince Mahidol was able to accomplish, through his determination and striving, an affirmation of the noble principle of the dignity and worth of everyone as a human person irrespective of social origin, property, birth or other status. After a short month during the last days of his life, still fulfilling his noble and zealous mission, Prince Mahidol took temporary leave for Bangkok to attend the funeral of a senior member of the Royal Family. He never returned. He had been suffering a severe kidney disease, for which he had been hospitalized before his return from Harvard, but refrained from telling his family that he would have at most a year to live. His Royal Highness Prince Mahidol of Songkla had lived a martyr's life. The nation mourned a great man's death at a young age of 37 years, 8 months, and 23 days.
The resounding message affirming the dignity and the value of life, so forcefully translated into action by Prince Mahidol, was enunciated in 1948 by the United Nations Universal Declaration of Human Rights. His teaching of the spirit of brotherhood towards all human beings without distinction of any kind is wellknown. Many of his exhortations and pronouncements given to his medical students long ago are more highly regarded t han ever for their wisdom and their eternal moral values. For example :
"I do not wish you to be only a doctor, but I also want you to be a human being". "True success exists not in learning but in its application to the benefit of mankind" Prince Mahidol's humanistic outlook and idealism permeated the lives of His Royal Highness family-his consort Her Royal Highness The Princess Mother, now aged 90 and still active, his eldest daughter Her Royal Highness Princess Galyani Vadhana, his first son former King Ananda Mahidol, and the present monarch, His Majesty King Bhumibol Adulyadej, as well as all of His Majesty's family-motivating each and all of them alike to be selfless, acting on the principle that each of us, without distinction, has human dignity and worth, ardently devoted to the betterment of health, happiness, and well-being of the sick, the poor, and the deprived. In the words of Professor A.G. Ellis, the then Dean of Siriraj Medical School, Prince Mahidol "was born to make the world a better place".
---
Send Questions/Comments to ThaiLink