!BASE HREF="http://www.thailink.com/">
Her Royal Highness the Princess Mother
Her Royal Highness Somdej Phra Sri Nakarindra Baromraj Chonni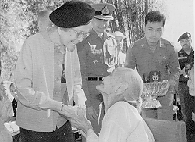 ---
A Lifetime of Giving H.R.H The Princess Mother
Story by Bonnie Davis from Thailand Illustrated September - December 1990.
People unfamiliar with the Kingdom of Thailand and its history, often wonder why the King's Mother is called Her Royal Highness the Princess Mother instead of the Queen Mother, as is done in Great Britain. Married to a Royal Prince, a son of King Chulalongkorn and Queen Sawang Wattana, she was never Queen. She is, however, the mother of two kings; the late His Majesty King Ananda Mahidol (Rama VIII) and His Majesty King Bhumibol Adulyadej (Rama IX), the present highly respected and greatly loved King of Thailand. Although born a commoner, the Princess Mother now has the tile of "Her Royal Higness Somdej Phra Sri Nakarindra Baromraj Chonni".
The Princess Mother who is cherished by people in every near and far corner of Thailand, will celebrate her 90th birthday on October 21, 1990. Hers has not been an easy life. From the age of four when her father died, she has known poverty, sadness and grief such as would overpower a less indomitable spirit yet she has never given up. She has accomplished more and done more good in her life than most people can ever dream of doing. Retirement? - that's still in the future. While she has slowed her pace somewhat, albeit unwillingly, plans for the future are still made. A most unusual lady the Princess Mother of Thailand.
H.R.H. the Princess Mother was born in Thon Buri on October 21, 1900 (B.E. 2443) to the wife of a gold smith. She was given the name of Sangwal. A bright little girl, her mother taught her to read and write while she was still very young; and reading has always been one of her favorite pastimes. She was orphaned before shw was nine years old, and following many ups and downs in various schools shw was given permission to study nursing at Siriraj Hospital. The nursing school had been founded by H.M. Queen Saovapha so that young ladies of good character could receive proper training as midwives and caring for the sick. She was only thirteen years old when shw became a nursing student.
The doctor in charge of the school for many years was Dr. Hans Adamson who had been born in Siam, but received both medical and theological training in the United States. After graduating at the age of sixteen, Miss Sangwal was granted a scholarship by the Queen to continue her study of nursing and preventative medicine in the United States. After her arrival in California, she lived with the family of Dr. Adamson for a year while she studied English at the Emerson School in Berkeley.
For all her life the Princess Mother has had an unquenchable desire to learn, and her quest for knowledge has led in many different directions. Although a devout Buddhist, while she was in California she attended a Christian Sunday School each week to enable her to learn more of the belief of other people.
From California, Miss Sangwal travelled across the United States to New England. During 1918 she studied at the North West School in Hartford, Connecticut. At the same time H.R.H. Prince Mahidol of Songkhla was studying at Harvard University. He took the responsibility of "watching over" other Siamese students in the area, listening to their problems, giving them advice and, at times, helping them out financially, although he himself lived very modestly-not as the son of a King, but as Mr. Mahidol. The beauty of Miss Sangwal did not escape notice of the Prince, and the "fairytale romance" culminated in their wedding in Bangkok in September, 1920. The young couple then returned to Massachusetts where both continued the study of their shared interests in better health care and medical facilities in Siam. From the United States the Royal couple went to Europe where the Prince continued studyinh some time at Edinburgh University, Mom Sangwal gave birth in May, 1923, to their first child - Princess Galayani Vadhana in London. In September, 1925 a son, Prince Ananda Mahidol, was born in Heidelberg, Germany.
Some time later, the family returned to the United States once again and Prince Mahidol enrolled as a medical student at Harvard. They lived very modestly in an apartment in nearby Brookline. The Princess Mother took special courses in sanitation and preventative medicine at Simmons College. Their third child, second son, was born in Cambridge, Massachusetts on December 5, 1927. Today he is H.M. King Bhumipol Adulyadej of Thailand.
Prince Mahidol received his degree as a Doctor of Medicine from Harvard, and the Mahidol family returned to Siam in 1928. His Royal Highness was soon hard at work, but his health was not good. Dr. H.R.H. Prince Mahidol died in September, 1929, leaving the Princess Mother with three young children to raise alone.
In 1933 the Princess Mother was given permission to take her children to Switzerland to continue their education and for a more healthful climate. In 1935 H.M. King Praiadhipok (Rama VII) abdicated the Throne of Siam, and the eldest son of Prince and Prince and Princess Mahidol became the eight King of the Chakri Dynasty H.M. King Ananda Mahidol before he was quite ten years old. This brought new changes to the life of the Princess Mother, for now instead of simply raising her three Royal children to the best of her ability, she suddenly found herself to be the mother of a King. This did not change the Princess Mother's determination to raise her children with a whole some balance of discipline and common sense tempered with love, however. Following the sudden, tragic death of King Ananda Mahidol in 1946, her second son succeeded to the Throne to became H.M. King Bhumibol Adulyadej (Rama IX). His present Majesty has reigned with wisdom and compassion for 50 years and is the longest reigning King in the history of the Kingdom.
With her children grown and with families of their own, the Princess Mother turned her attention to helping others and aiding various worthy charity organizations by consenting to become their Royal Patron. Her training in health care and her multitude of interests in that direction have led to Her Royal Highness being called "The Mother of Rural Medicine in Thailand." (H.R.H. Prince Mahidol is known as the "Father of Modern Medicine in Thailand.)
Perhaps the best known of the many charitable activities of the Princess Mother, is her Volunteer Flying Doctors Foundation with its mission of providing medical and dental care for people in areas where such care is inaccessible and, more often than not, beyond their means. In 1974 Her Royal Highness graciously gave the sum of one million baht to found the organization which is officially registered as "The Princess Mother's Volunteer Flying Doctors Foundation", known in Thai as "Por-Or Sor-Wor". During her busy months in Thailand the Princess Mother is almost continually "on the go", travelling the length and breadth of the country. A medical team always accompanies Her Royal Highness, and it's not at all unusual to find her helping with examinations or giving out medicines. Her soft smile and calm demeanour help to dispel fear in young and old. Many times people in remote areas suffer needlessly from simple ailments because they are too far from medical facilities.
The Princess Mother has notices that many Thai people suffer from lack of dental care. To facilitate this care for the volunteer dentists, she designed a folding aluminum dental chair! Between 1969-1983 alone, the mobile medical and dental teams cared for 127,909 dental patients and almost four million general patients.
Periodically H.R.H. the Princess Mother returns to Switzerland where she maintains a modest apartment. Here she can get a much earned rest and relax to "recharge her batteries" so to speak! She walks, picks wild flowers, paints, or whatever pleases her. From childhood she enjoyed sports, running, climbing trees, and learned to rollerskate while in California. At the age of sixty she climbed Thailand's highest mountain, having to pause occasionally to wait for the younger climbers in the group to catch up with her! She skied until she was eighty!
A most caring, fascinating and dedicated lady, the Princess Mother of Thailand. A list or descriptions of all her interests and activities can, and have, filled several books written about her. She enjoys gardening, grows flowers on her balcony, and still continues her lifelong enjoyment of reading, with her tastes ranging from Aristotle and astronomy to Agatha Christie! She has over come many trials by turning her interests toward helping others. The Doi Tung Project is now underway with plans for oncoming years-one can only wait and wonder about the future plans of this gracious lady. One thing, however, can be surewhatever it is she plans will unselfishly bring benefit to the people and country of Thailand.
On July 18, 1995, sadness came to Thai people throughout the country when the "Princess Mother of Thailand" passed away.
---
Send Questions/Comments to ThaiLink